Canberra & Queanbeyan
We arrived at Queanbeyan on 19/11/97 at about 3:00pm. It is a small city of NSW with 26,000 residents. The City status was granted on 7th July 1972.

We chose to stay at Burley Griffin Motel, 147, Uriarra Rd, Queanbeyan. It is a mere 10 minutes drive to Canberra, ACT. There are daily organized bus-tour of Queanbeyan-Canberra leaving hotels every half-hour. We drove to Canberra.

New Australian Parliament House..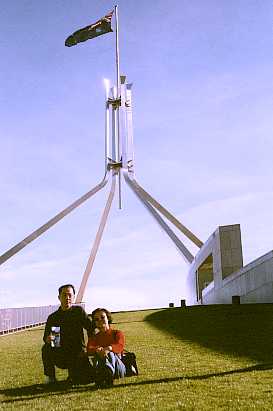 The Parliament House was designed by Romaldo Giurgola of Mitchell, Giurgola and Thorp Architects. Opened 9 May 1988, it is Australia's most acclaimed building, the home of Australia's Parliament and the meeting place of the nation.
Your first view of the Parliament House is the 81 meters high flagmast. This is one of the world's largest stainless steel structures and is also a central landmark of Canberra.
Other highlights of the Parliament House includes the Foyer, which features 48 marble-clad columns and two superbly crafted marble staircases.
Designed to be reminiscent of a eucalyptus forest, the Foyer is a showpiece for the beautiful masonry and timber used throughout the building.
Beyond the Foyer is the Great Hall which houses one of the largest tapestries in the world, based on a work by Australian artist, Arthur Boyd. Central to the building is the Members' Hall which is an informal meeting place for Parliamentarians.
Works of art, from the Parliament House Art Collection, can be seen in the public areas of the building. Notable paintings include the collection of Australian landscapes on the first floor of the Foyer, and the large portrait collection of Australia's Governors-General, prime Ministers, Presiding Officers and other notable Parliamentary figures in the Members' Hall.
Public galleries overlook the House of Representatives Chamber on the eastern side of the building and the Senate Chamber to the west. Visitors are able to observe proceedings when Parliament is sitting.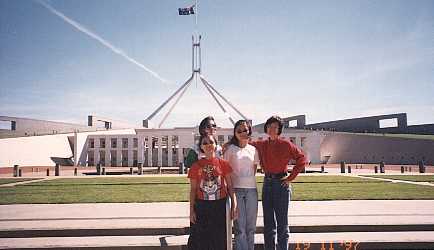 New Australian Parliament House



The background is the old Parliament House and War Memorial.